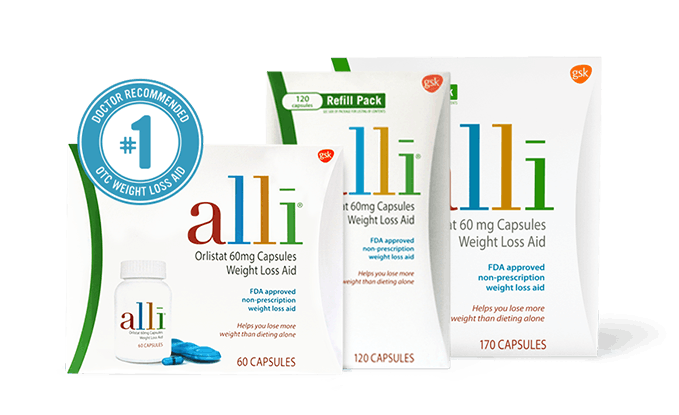 alli IS THE ONLY OTC WEIGHT LOSS AID APPROVED BY THE FDA
alli is the #1 doctor recommended OTC weight loss aid.*
alli comes in a few sizes: the 60-count Starter Pack, the 120-count Refill Pack, and the 170-count Pack. Every 60-count box of alli comes with a pill counter to help you on your weight loss journey.


*Among over the counter (OTC) weight loss products, based on physician survey June 2021.
USES
The alli product can be taken by overweight adults (with a BMI of 25 kg/m2 or above), 18 years or older, when used along with a reduced-calorie, low-fat diet.
For interactions and warnings, please see the FAQ.
This companion guide will also help you get a better understanding of the alli Program and how it can work for you.
DIRECTIONS
You'll receive a brochure in your package of alli. Be sure to thoroughly read this brochure before taking the product.
Use with a reduced-calorie, low-fat diet and exercise program until you reach your weight loss goal. Most weight loss occurs in the first 6 months.
For overweight adults 18 years and older:
Take 1 capsule with each meal containing fat.
Do not take more than 3 capsules daily.
Take a multivitamin containing fat-soluble vitamins (vitamins A, D, E, K & beta carotene) once a day, at bedtime; alli may reduce the absorption of fat-soluble vitamins.
The mealtime dosing schedule (one hour before, during, or one hour after a meal) makes it easy to remember when to take alli capsules. To help you remember, we recommend making alli a part of your pre-meal routine.
ACTIVE INGREDIENT
Orlistat 60 mg
(Purpose: weight loss aid)
See full product information here.
Please read all label directions before using this product. As with all medicines, please check with your health care professional first if you have questions or concerns.
CURIOUS ABOUT SIDE EFFECTS?
There is a chance of side effects when using orlistat. Orlistat works by preventing the absorption of some of the fat you eat. The fat passes out of your body, so you may have bowel changes.
The most common are gastrointestinal (GI) and are referred to as diet-related side effects. These effects are related to the way you take the product and how much fat you consume when taking alli capsules.
These effects tend to occur early on when you first start taking alli, as your body adjusts to your diet and alli, and then subside with continued use.
90% of people who have used alli and eat a low-fat diet were able to stay on their diet for over 3 months. It's worth noting that taking alli correctly can help you minimize GI side effects that could happen, like bowel-related changes, especially during the first few weeks of use.
PREP AHEAD
Try starting a well-balanced, reduced-calorie, low-fat diet before taking your first alli capsule.
EAT A LOW-FAT DIET
It lowers the chance of having bowel changes.
ABOUT 15 G OF FAT
Per meal; side effects are most likely to occur when you eat a meal containing more than that.
MAKE A PLAN
You'll need 3 well-balanced meals and 1 snack a day. Check out our companion guide for more information.
REACHING YOUR WEIGHT LOSS GOAL
Once your BMI reaches 25 kg/m2 or less, congrats to you for successfully reaching a healthy weight! At this point, you can stop taking alli because it will no longer be effective in your weight loss efforts. Since alli helped you achieve a healthier weight and lifestyle, we hope you'll keep up the good work through diet and exercise. If your BMI returns to 25 kg/m2 or above, you can start taking alli again at anytime.